HCA Houston Healthcare
Revolutionizing the delivery of care
Who we are
HCA Houston Healthcare offers convenient, efficient, evidence-based care in the communities we serve. As a part of the HCA Healthcare family, HCA Houston Healthcare is revolutionizing the delivery of care in pursuit of our mission:
Above all else, we are committed to the care and improvement of human life.
To better meet the growing healthcare needs of Texas communities, HCA Healthcare has invested in community-based hospitals that help ensure access to quality care. The strength and scale of our nationally integrated network, combined with our unique operational discipline, delivers a more effective and efficient provider system.





Our integrated approach to exceptional care
Our delivery of care continues to evolve to stay ahead of the rapidly changing healthcare landscape. Along with our network of hospitals, we also serve patients through freestanding emergency rooms, urgent care clinics, ambulatory surgery centers, physician practices, maternal fetal medicine clinics, outpatient imaging centers and a designated transfer center.
Patient records are coordinated across our locations so patients can move seamlessly across the continuum to access the care they need. This coordination supports a health plan's need to keep the member in-network.
As health plan providers, you face increasing pressure to connect members to quality medical services and convenient care while maintaining affordability. HCA Houston Healthcare is uniquely prepared to ease this pressure through our expansive network and innovative approaches.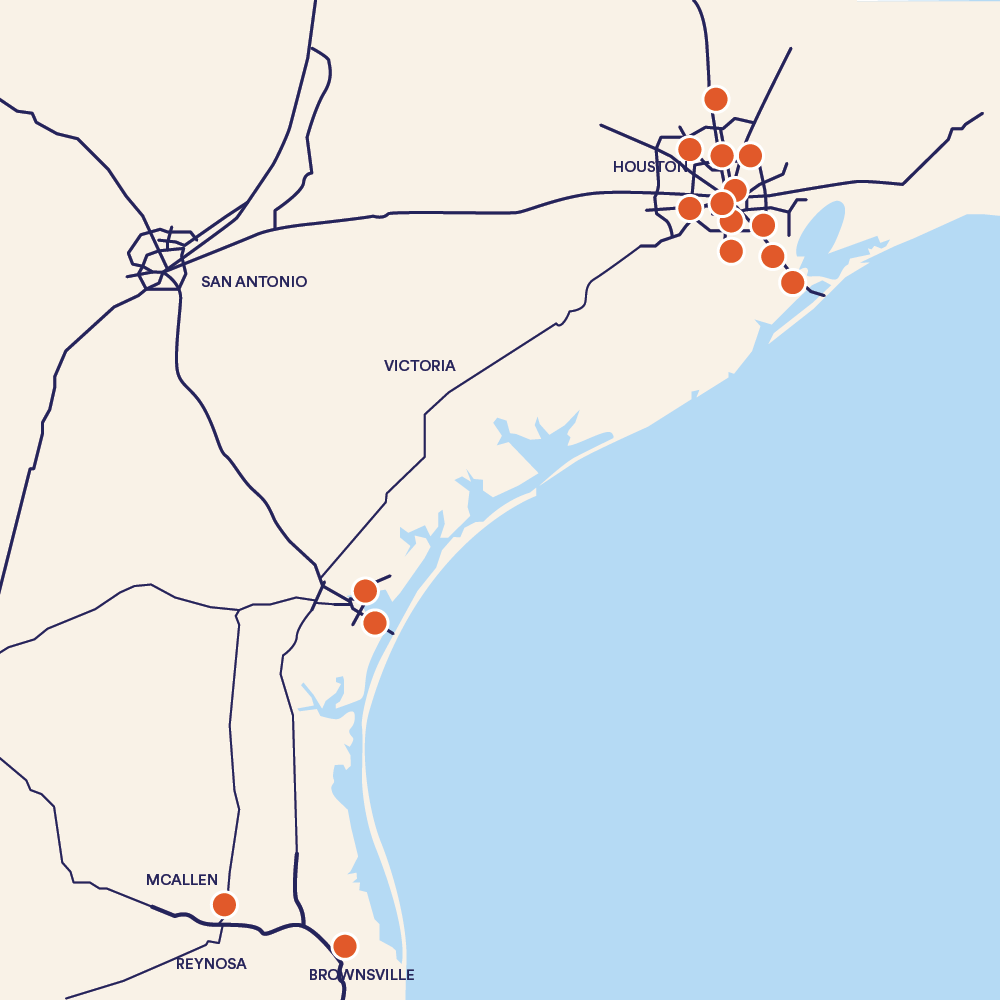 Leading the way in clinical excellence and innovation
Not only do we care for patients across the continuum of care, but we also deliver care with reduced variation thanks to our data-driven clinical practices. To produce exceptional patient outcomes, we rely on a powerful combination of great physicians, state-of-the-art equipment, highly trained nursing staffs, and unmatched clinical support.
Insights gained from data on HCA Healthcare's more than 30 million patient encounters per year are used to conduct proprietary research and trials that dramatically improve patient outcomes.
39 Weeks Initiative
In partnership with March of Dimes, produced best-in-class approach for reducing the risk for newborn babies. This is now an international standard of care and has reduced HCA Healthcare NICU admission by 75 percent.
Cancer detection and treatment
Sarah Cannon, the cancer institute of HCA Healthcare, provides physician-led clinical trials to hundreds of thousands of patients – a number unmatched by any other cancer center in the country. The impact of this work is life-changing, making HCA Healthcare the clinical trial leader in approximately 80 percent of approved cancer therapies over the last decade.
Flu prevention
The first national health system to mandate flu vaccines for employees, reducing flu-like symptoms in patients by 40 percent.
Reduce MRSA
Groundbreaking trial resulting in a 44 percent reduction in bloodstream infections, 37 percent reduction in MRSA alone, as part of HCA Healthcare's Partnership for Advancing Clinical Excellence Initiative. This practice was adopted by the Centers for Disease Control and Prevention (CDC).
SPOT
This current initiative is still in the pilot stage, and has shown promising results in using big data to determine which patients are most at risk for developing sepsis.
STOP-SSI
Protocols used in the study reduced complex, deep surgical site infections by 42 percent.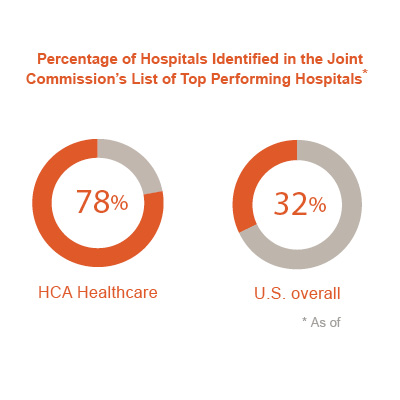 Percentage of Hospitals identified in the Joint Commissions List of Top Performing Hospitals
HCA Healthcare: 78%
U.S. Overall: 32%
Partnering with health plans
At HCA Houston Healthcare, we leverage our scale and capabilities in shared purpose with our health plans.
Plan sponsors want their members to know they have access to the quality care they deserve. Over the past year, we have invested more than $389.5 million to increase capacity and access, and to provide care across our network.
Every day, more than 16,300 employees proudly work to consistently outperform other hospital systems in both key clinical performance and patient satisfaction measures.
To provide patients the care they deserve, we will:
constantly work to maintain and improve member satisfaction
collaborate with health plans to create innovative payment models
To effectively partner with physicians, we will:
continue to build trust through partnership and transparency
innovate and advance evidence-based standards
To bring the best of business to bear on patient outcomes, we will:
focus on providing cost-effective, value-based care
leverage the power of data and analytics to create efficiency and improve outcomes