HCA Affiliated Physicians: Electronic Health Records & Ambulatory Solutions
Connected Care Is Better Health Care.
HCA is committed to the improvement of health, and we strive to deliver high quality, cost effective healthcare in the communities we serve. Together, with our affiliated physicians, we can continue to strengthen the quality of care throughout our region by utilizing EHR technology to automate inpatient and outpatient records across all medical settings.
Take advantage of the benefits your practice and your patients can experience as a result of leveraging a certified EHR solution.
Higher quality of care
Improved patient experience
Potential stimulus dollar
Greater practice efficiencies
More comprehensive charge capture
Healthier bottom line.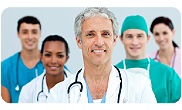 All offerings include preferred pricing on software licenses, interface technology, installation, training, and hosting services that allow you to manage EMRs at a low, affordable, long-term cost.
Disclaimer: HCA is supportive of your efforts to automate your practice through EMR and we are able to provide integration solutions regardless of which EMR you should select. We encourage you to do your due diligence in selecting the most appropriate EMR for your practice and do not wish for the HCA preferred pricing to be interpreted as our endorsement of this product as the right choice for your practice.
After considerable evaluation we are pleased to introduce these industry leading EHR ambulatory solutions to affiliated physicians of HCA hospitals and access to preferred rates for their technology services.

eCW is the leader in ambulatory clinical solutions, with over 60,000 physicians, and over 180,000 providers across all 50 states, and catering to over 50 specialties. Learn more at: eclincalworks.com
Allscript's electronic health record, practice management and other clinical, revenue cycle, connectivity and information solutions create a Connected Community of Health™ for physician practices of all sizes. Learn more at: allscripts.com
NextGen Healthcare is a full-service organization that provides EHR, financial, and HIE solutions for hospitals, health systems, physician practices, and other healthcare organizations. Over 60,000 providers use our robust software solutions. Learn more at: nextgen.com

Greenway's single-database, interoperable PrimeSUITE® ambulatory EHR/PM and related services enable practices, enterprises and entire communities of health to successfully navigate the future of healthcare. Greenway solutions have 5-star ease of use, industry-leading customer satisfaction and proven success to enhance care coordination and outcomes while maximizing organization-wide efficiency and ROI. Learn more at: www.greenwaymedical.com/hca.