 New training center to focus on nurse education, professional development
Houston, TX — HCA Houston Healthcare is pleased to announce the opening of the HCA Healthcare Center for Clinical Advancement (HHCCA) which hosted its grand opening on Tuesday, July 27.
The two-story, 48,400-square-foot facility, located in the Pearland Town Center at 11200 Broadway St., Bldg. 200, is a state-of-the-art training center that hosts five high-fidelity hospital simulation labs with interactive manikin "patients," five debriefing rooms, and virtually-connected classrooms for nurse training. It will also serve as a hub for all HCA Houston Healthcare new hire orientations and the system's leadership and organizational development training.
HCA Houston Healthcare's nearly 7,000 nurses and nurse residents, will receive advanced training in a facility custom-designed to reflect patient care environments. Special control rooms allow instructors to observe training participants as they learn new techniques or refresh existing skills. Simulcast technology will facilitate education and training opportunities for colleagues working in locations across the HCA Healthcare Gulf Coast Division, which includes facilities in Corpus Christi and South Texas.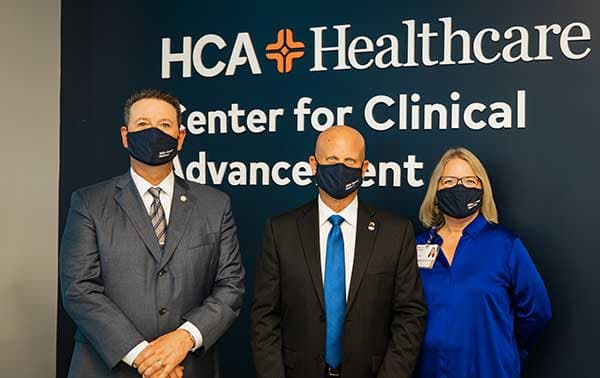 HCA Houston Healthcare President Troy Villarreal, Pearland Mayor Kevin Cole and HCA Houston Healthcare Vice President of Clinical Education Diane Henry all spoke at the grand opening on July 27.
"HCA Healthcare's mission is: Above all else, we are committed to the care and improvement of human life," said Troy Villarreal, HCA Houston Healthcare president. "That passion for care begins with ensuring our caregivers have the best resources and training to develop their skills and this new facility highlights our commitment to nurse education, professional development and our promise to deliver higher-quality care to the communities we serve."
Front lobby at the HCA Healthcare Center for Clinical Advancement in Pearland.
Additional HHCCA features include multiple classrooms, conference rooms and a simulated hospital supply room. The facility also provides numerous conveniences including a large breakroom, a mother's room for colleagues who are nursing and several lounge areas.
"The HCA Healthcare Center for Clinical Advancement will help standardize training across our 13 Houston-area hospitals, outpatient surgery centers, freestanding emergency centers and diagnostic imaging facilities where approximately one million patients are cared for every year," said Diane Henry, HCA Houston Healthcare vice president of clinical education. "Bringing the latest teaching technologies under one roof in a new, advanced facility is a major step in preparing our nurses to provide the highest level of care and I'm so proud that HCA Healthcare has made this investment in our colleagues."
Krystal Doyle, vice president of nursing analytics speaks to attendees at the Center's grand opening.
A high-fidelity "patient" manikin used in nurse training simulation exercises.
A classroom located in the HCA Healthcare Center for Clinical Advancement.
News Related Content