 Houston, TX – HCA Houston Healthcare Northwest celebrated National Trauma Survivors Day on May 18 by honoring its trauma survivors and the hospital's recent American College of Surgeons (ACS) verified Level II Trauma designation. Scott Davis, CEO of HCA Houston Healthcare Northwest, welcomed attendees and hospital staff. He recognized the close relationship between EMS, hospital trauma, and emergency room colleagues and thanked them for their hard work. Dr. Shiree Berry, trauma medical director at HCA Houston Healthcare Northwest, explained the importance of their recent Level II verification to the northwest Houston area. She spoke about the importance the designation holds and how it further validates the high level of trauma care that the facility continues to provide 24-hour quality care daily. Coverage extends to many of the facility's specialties, two dedicated trauma resuscitation bays and an operating room for trauma surgeries.
Dr. Berry shared the story of trauma survivor Mr. Raul Saldana Rodriguez, who sustained a headshot wound that required surgery and extensive physical rehabilitation. The Bryan Inpatient Rehabilitation Center at HCA Houston Healthcare Northwest was recognized for its expertise in its treatment and care.
Nicole Powley, trauma director at HCA Houston Healthcare Northwest, presented the next trauma survivor, Mr. Jeremiah Lewis. Lewis was on his way home from work in the early morning hours when his vehicle stalled on the feeder road. He was trying to alert others when he was struck by another car at a high rate of speed. He lost both of his legs due to the accident and spent over a month in the ICU. He went on stage and thanked the people who helped in his recovery – trauma surgeon Dr. Lorne Blackborne, nurse Melanie Wyatt, and housekeeping tech Sharolyn Williams.
Lewis's mother, Lucretia Lewis, then spoke from a mother's point of view and expressed her heartfelt gratitude to the first responders, Dr. Blackborne, and the entire hospital (clinical and non-clinical) staff who all touched their family and aided in his recovery.
Chief operating officer Tricia McGusty closed out the program by thanking the survivors, their families and the caring colleagues who take care of patients daily. Guests took pictures and enjoyed refreshments following the event.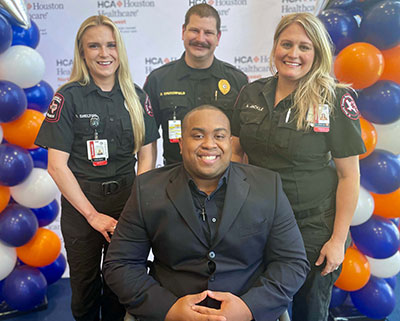 HCA Houston Healthcare Northwest trauma survivors, Jeremiah Lewis with first responders that worked with him on the scene
News Related Content