Angela Shippy, MD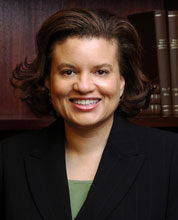 Angela Shippy, M.D.
Chief Medical Officer, HCA Gulf Coast Division
Angela A. Shippy, M.D., is the HCA Gulf Coast Division Chief Medical Officer, where she serves as the primary liaison between the physician and administrative teams at the Division's ten hospitals throughout Houston and South Texas. Her guidance on quality initiatives, clinical effectiveness, technology integration, talent acquisition, and capital improvements strengthens the position of each healthcare facility in its respective community and improves efficiencies across the Division.
Most recently, Dr. Shippy served as Vice President of Medical Affairs at St. Luke's Episcopal Hospital in Houston, where she had previously worked as a hospitalist. She earned a bachelor's degree in biology from Texas A&M University and a Doctor of Medicine degree from the University of Texas Medical Branch in Galveston, where she also completed her residency in internal medicine. She has served on a number of community councils and committees and held volunteer clinical faculty positions at both Baylor College of Medicine and The University of Texas-Health Science Center in Houston.